Metal Fiber Mat
来源:http://www.zwenfilters.com/news/879.html 更新时间:2020-05-13 点击次数:87次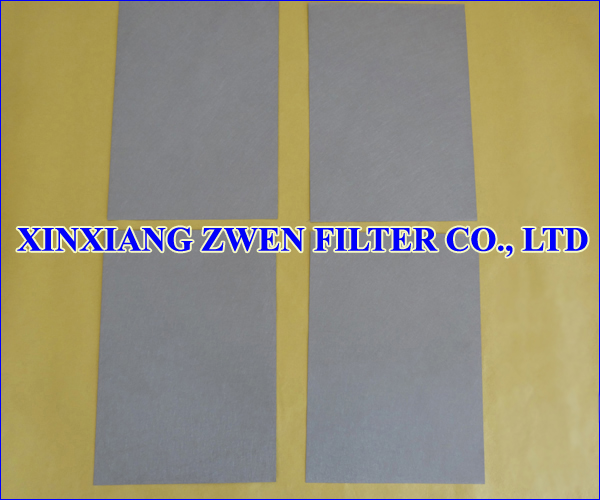 Metal Fiber Mat Technical Parameter
Raw Material: SS 316L
Filter Rating Range: 1 Micron ~ 100 Microns
Filter Efficiency: > 99.99 %
Operation Temperature: ≤ 816 ℃
Length: ≤ 1500 mm
Width: ≤ 1200 mm
Regular Size (Length*Width): 500 mm*500 mm, 500 mm*1000 mm,
1000 mm*1000 mm, 1200 mm*1000 mm
Thickness Range: 0.2 mm ~ 10 mm
Metal Fiber Mat Feature
1. Metal fiber mat is made from different diameters stainless steel fibers
2. Metal fiber mat is sintered in a high temperature vacuum furnace
3. Metal fiber mat is a good filter media for depth filtration
4. Metal fiber mat has high dirt holding capacity because of three dimensional fiber structures
5. Metal fiber mat has a very high filter efficiency because of different fiber layers density gradients
6. High porosity
7. High temperature resistance
8. High corrosion resistance
9. High flow rate with low pressure drop
10. Washable and Cleanable
11. Reusable
12. Long service life
13. Easy to be pleated
14. Easy to be welded, fabricated
15. Easy to be cutted into different shapes, such as circular, sheet
Application
Polymers filtration, high temperature liquid filtration, high viscosity liquid filtration, high temperature gases filtration, steam filtration, catalysts filtration, solvents filtration, fuel filtration, lubricant oil filtration, ink filtration, water filtration, beverages filtration, resin filtration, detergent filtration
ZWEN Quality Guarantee
1. We can provide raw material test report
2. We can provide filter efficiency test report
3. We will pay 2 times price for clients if SGS test report shows bad quality (we only accept SGS test report)
About Us
XINXIANG ZWEN FILTER CO.,LTD produces metal fiber mat, sintered fiber felt, sintered fiber filament media, sintered fiber filter media, and sintered metal fiber media.
XINXIANG ZWEN FILTER CO.,LTD has advanced sintering equipment, advanced welding equipment and a high level of skilled workers.
XINXIANG ZWEN FILTER CO.,LTD has passed ISO 9001:2008 quality management system and SGS audit test.
XINXIANG ZWEN FILTER CO.,LTD main markets are European market and North American market.
XINXIANG ZWEN FILTER CO.,LTD Key Clients: Parker, GKN, SIEMENS, MAHLE.
Contact Us
XINXIANG ZWEN FILTER CO.,LTD
FACTORY ADDRESS: NO.425, XINHUI ROAD, MUYEQU, XINXIANG, HENAN, CHINA
TEL: +86-373-5807218
FAX: +86-373-5895995
EMAIL: info@zwenfilter.com
ENGLISH WEBSITE: www.zwenfilter.com
CHINESE WEBSITE: www.zwenfilters.com